Principles of Real Estate Practice
6th Edition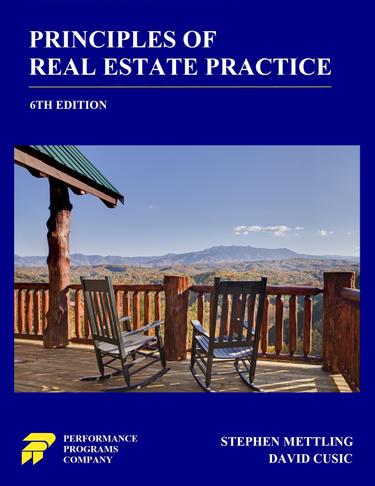 Already purchased in store?
Additional Book Details
Principles of Real Estate Practice is a modern learning tool for the student preparing to enter the real estate business as a licensed professional. The textbook contains the essentials of real estate principles, law, and practices taught in real estate schools and colleges across the country, including all those fundamentals that real estate educators, practicing professionals, national testing services, and state licensing officials agree are necessary for basic competence. Principles of Real Estate Practice covers the national requirements for the initial 30-90+ hours of classroom study, or its equivalent, mandated by state license laws across the country.
Principles of Real Estate Practice is tailored to the needs of the pre-license student. Its examples and exercises are grounded in the authors fifty combined years in real estate education. The textbook is designed to
- make it easy for students to learn the material and pass their real estate exam
- prepare students for numerous career applications
- stress practical, rather than theoretical, skills and knowledge.
Table of Contents
The Real Estate Business
Rights in Real Estate
Interests and Estates
Ownership
Encumbrances and Liens
Transferring and Recording Title to Real Estate
Real Estate Leases
Land Use Planning and Control
Legal Descriptions
Real Estate Contract Law
Agency
Listing Agreements
The Brokerage Business
Contracts for the Sale of Real Estate
Real Estate Market Economics
Appraising and Estimating Market Value
Real Estate Finance
Real Estate Investment
Real Estate Taxation
Professional Practices
Closings
Real Estate Licensing and Regulation
Risk Management
Property Management
Real Estate Mathematics and Formulas
Glossary of Residential Style and Construction Terms
Glossary of General Real Estate Terms
Index