California Real Estate License Express
2nd Edition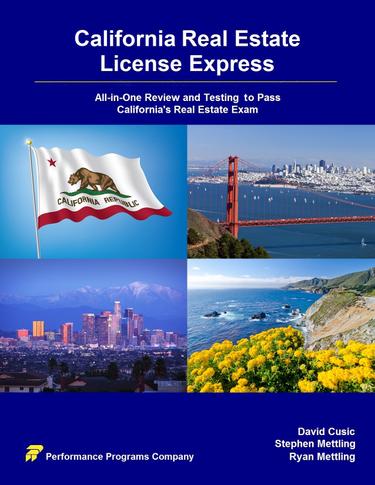 Already purchased in store?
Additional Book Details
Features of California Real Estate License Express (CA-RELE):
General Principles and Law Key Point Review (60 pages)
California-Specific Principles and Laws (56 pages)
Real Estate Math Key Formula Review & Practice (17 pages)
General Real Estate Practice Tests (500 questions)
California State-Level Practice Tests (90 questions)
California Practice Exam (150 questions)
We know the real estate licensing exam can be tough, and very nerve-wracking to prepare for. Thats why we created the California Real Estate License Express (CA-RELE) the way we did. Since we have been managing real estate schools and developing curriculum for forty years, we know how all this works or fails to work.
CA-RELE is comprehensive in that it contains both key content review and testing practice. And the text review is California-specific not just simplistic generic content, but terse, relevant and accurate state laws and regulations presented in a well-organized set of key point reviews which are ideal for pre-test memorization. Finally, our real estate principles and practices content, as well as our question selection, is further tailored to the state testing outline promulgated by the California Department of Real Estate (DRE). Therefore, the selected legal points and test questions reflect the topic emphasis of your California license exam.
A word about the test questions... CA-RELEs testing practice section consists of ten general practice tests, three California state law tests, and one state exam simulation test. The questions are direct, to the point, and designed to test your understanding. When you have completed a given test, you can check your answers against the answer key in the appendix. To enhance your learning and preparations, each questions answer is accompanied by a brief explanation, or rationale underlying the correct answer.
In the end, as you know, its all up to you. Unlike other publications, we are not going to tell you that using this book will guarantee that you pass your state exam. It still takes hard work and study to pass. But we have done our best here to get you ready. Following that, the most we can do is wish you the best of success in taking and passing your California real estate exam. So good luck!!